Member Spotlight
To return to the most recent spotlighted members, click here.

2014 Spotlight Members
---
December 2014: John Snyder
He was initiated into this lodge July 1998 and in his 17 years, he has chaired our Americanism and Scholarship Committees. He has been instrumental in seeing that all of our schools in the Frankfort and Franklin County School systems have the American Flag in each class room.
He is the State Elks Scholarship Chairman and Government Relations Chairman as well. I'm talking about our very own John Snyder and his outstanding work that he does for this Lodge. Thank you, John, for your outstanding service!


November 2014: Doug Sanderson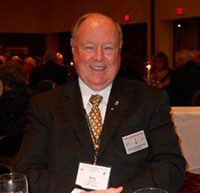 Doug Sanderson has been a member of our lodge for 51 years! He joined in October of 1964. He served as State Chaplain in 2011-12 for State President Ray Highley, and our very own Lodge Chaplain for 24 years.
He is an avid bowler — bowling for the Elks lodge and the Senior League at the Capital Bowl. We are proud to spotlight Doug for all the support and service he gives to this lodge!


October 2014: Toni Quire
Our first person to be recognized as an outstanding Elk member is a member who has dedicated the past 8 years of her Elk membership as our outstanding Editor in Chief of the Elks Newsletter. Toni Quire, please stand up and take a bow! You have worked with Brad Marston and myself for the last 8 years making sure you get the newsletter out in a timely manner.
I know this has not been easy, especially working with Brad (hahaha)! Toni has been an Elk member since 2006 and she has never failed to do anything asked of her. Toni, thank you for all of your hard work and dedication to the Elks. We appreciate you!