Posted by
Elks 530

| Posted in Hoop Shoot | Posted on 05-12-2016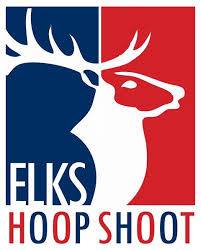 The onset of cold weather means that it's time once again for the Elks Hoop Shoot contest! If you're not familiar with the hoop Shoot, it's the annual free throw shooting contest for kids ages 8 to 13. Winners at the local shoot will move on the District shoot, with those winners moving on to the State level. Winners there will move on to the Regional contest in Tennessee, and Regional winners move on to the national shoot in Chicago, IL!
The best part is that there's no cost to participate!
This Sunday, December 11, we'll host our local contest at the Second Street School gym. All you need to do is show up and shoot. The times for each age group are as follows:
8 – 9 year olds: Arrive by 1 PM, shoot from 1 -2 PM
10 – 11 year olds: Arrive by 2 PM, shoot from 2 – 3 PM
12 – 13 year olds: arrive by 3 PM, shoot from 3 – 4 PM
Please note that all shooters will compete at the age they will be on April 1, 2017. You should bring a birth certificate for all shooters for registration.
We'll see you there!