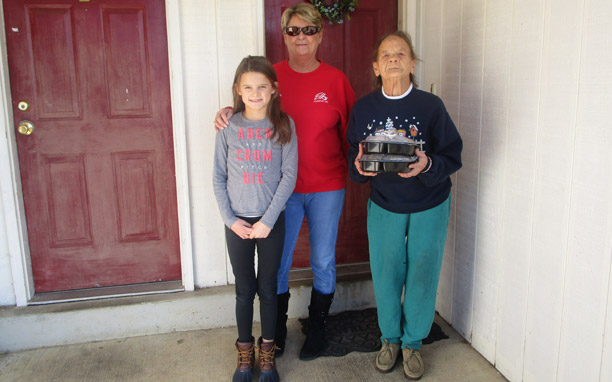 For years now, the Frankfort Elks Lodge has taken time out on the day before Thanksgiving to help our local seniors in need. This year, as in the past, we delivered meals and gift cards to several needy seniors. The seniors were selected with assistance from the Franklin County Senior Citizens Center.
Pictured above is Frankfort Elks Lodge #530 member Kela Simpson (center), and her granddaughter Chloe Simpson (left), delivering two turkey meals and $50 Wal-Mart gift card to Claudia Younger. These gift cards help seniors purchase eesentials that they may otherwise not be able to afford. Not pictured above but also helping deliver was Frankfort Lodge member Sandy Moore.
Thanks to those members that helped make this possible for helping our lodge live out the Elks motto, "Elks Care, Elks Share." Want to find out more about how you could help make our community a better place as part of the Elks? Talk to a member about joining, or visit our membership page!