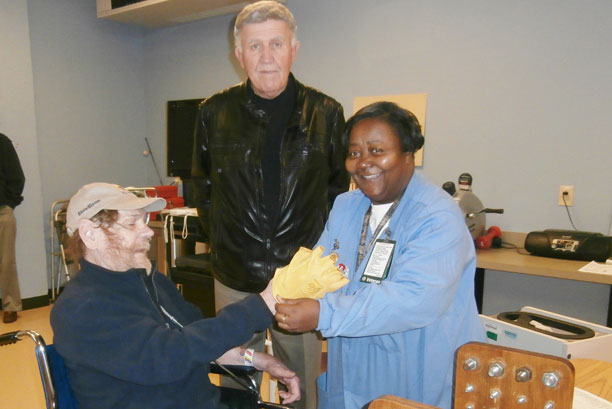 Every year around the holidays, the Frankfort Elks Lodge delivers a number of items to the needy vets at the Lexington VA Hospital.
In the picture above, John Wayne Wright, Lexington VA Veteran, receives a pair of Elk Leather wheelchair gloves donated by the Frankfort Elks Lodge. Also pictured is Frankfort Lodge Veterans Chairman, Bill Moore. Barbara Monie, who is the clothing room supervisor at the VA, assists with fitting Mr. Wright's hand. Every three months, the Frankfort Elks donate another two dozen leather wheelchair gloves to allow for turnover at the VA Center.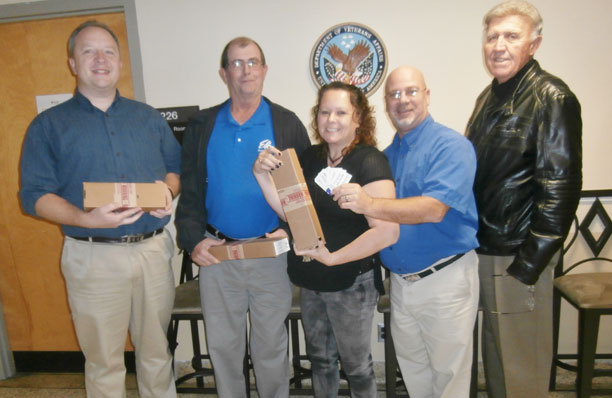 At the same time, the Frankfort Elks Lodge also donated $2000 in Lextran Bus Passes to the Lexington VA, Volunteers of America (VOA) homeless VA program. These passes enable Veterans to get to and from medical appointments and job programs throughout the Lexington Area. Pictured above are Michael Gurbord, program director, Ricky Groves, Frankfort Elks Trustee, Pricilla Hall, VOA, Bill Klingerbert, VOA and Bill Moore, Frankfort Elks Lodge #530 Veterans Chairman.
The Elks have made a promise that "So long as there are veterans, the Benevolent and Protective Order of Elks will never forget them." As you can see, the Frankfort lodge is helping uphold that promise.