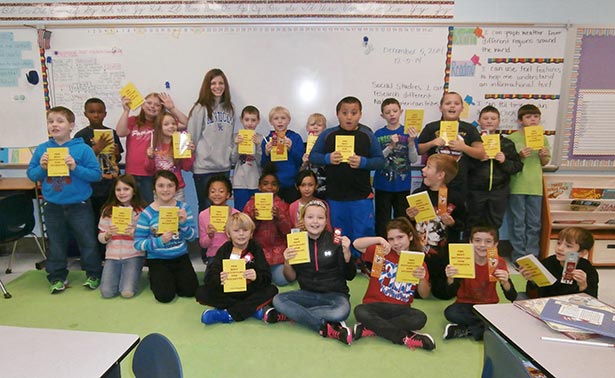 Every year, the Frankfort Elks Lodge delivers a new dictionary to every single third grade student in Franklin County. That includes all students at Franklin County, Frankfort Independent, and private schools in the county. Over two weeks in December of this year, Frankfort Elks Lodge members delivered over 650 dictionaries, pencils, and anti-drug ribbons to third graders.
We were unable to take pictures this year due to school policies. Pictured above is a Peaks Mill Elementary third grade class from our 2014 dictionary delivery.
The Frankfort Elks have been delivering dictionaries for over 10 years, and we are very proud of our members who support such a worthwhile program for the Frankfort Community. This project is funded with help from an Elks National Foundation grant. For more information on the Foundation, and how you can give, please visit their website.