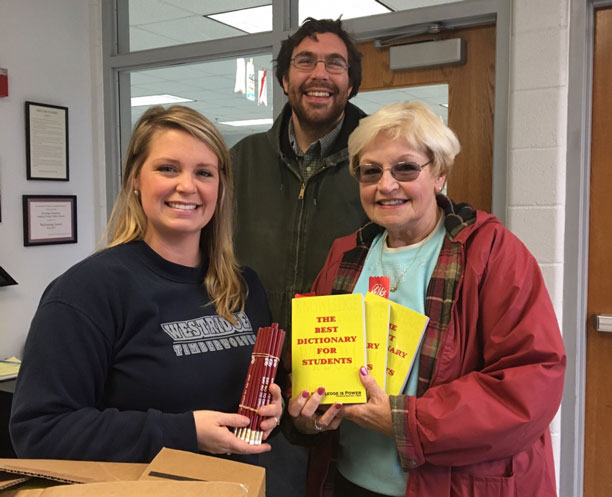 The Frankfort Elks Lodge has a yearly tradition that around the first of December, we deliver a dictionary to every third grader in the county. This includes students at all schools, both Franklin County and Frankfort Independent, as well as the private schools as well. These dictionary deliveries are ongoing as we speak, and this year we will hand out over 600 dictionaries to kids. Each third grader will also receive an anti-drug ribbon and a pencil along with their dictionary.
Pictured above are Frankfort Elks Sandy Moore (right) and Trey Greenwell (center), who are seen delivering dictionaries to West Ridge Elementary School 3rd grade teacher, Kimberly Young (left).
The Frankfort Elks have been delivering dictionaries to third graders for over a decade, and we plan to continue this program for the foreseeable future. It is a boon to our community, and to the kids it serves. This project is made possible each year through a grant from the Elks National Foundation. For more information on the Foundation, and how you can give, please visit their website.
Interested in joining the Elks to become part of our many charitable works? Click here to find out more!